First thing out of the crib this morning, Grace and Dad headed off to see a few Hot August Night cars.   Been going on a week and we haven't had a chance.   We went to the Nugget and only saw a very tiny sliver of the thousands of cars that are enjoying the Reno area this week.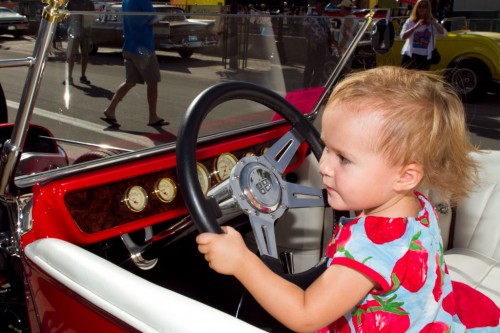 Grace LOVED watching the cars and our expected two hours of fun turned into about 3times that!     Grace loved the cars, the people and of course the attention.   She drove a few cars, the bucket car she gained a big audience and even had the newspaper reporter and camera man there!  She was really hamming it up.   We also caught some young girls doing some poodle skirt  dances and Grace very much was fascinated with that.
…finally, you'll note the last picture and the pink car.   Grace kept wanting to go back to that car and so finally dad asked the owner to pose in a picture.
Grace was so wound up that she didn't take a nap today  -too bad as we had planned to go back for the drag races  …..but instead we'll likely go to the parade in the morning.
 VIDEO: