Grace continues to change everyday ….yet so many characteristics remain the same, -some becoming even more defined. She's still very active at night and we hope to get her off of that schedule. She pretty much goes into hibernation during the day. We've kept her on the new baby formula that is supposed to help her be a little less 'gassy' and perhaps that is helping.
Just a few videos and pics over the last few days:

Here is a video of Grace doing bath#2 …you can see she's getting a bit better 🙂 …and you'll see she has already learned how to make a natural jacuzzi!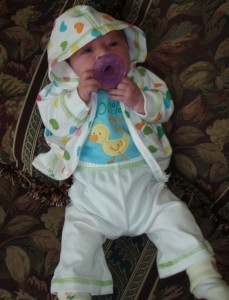 And here a video:? Grace does what she does best ….active and full of spunk (and fussiness) late at night. This is her time -when everyone else is trying to sleep.
A few more pictures of the last days HERE(CLICKY)