Yep, yet another baby shower, …and this one was something unique!!
The 'Intensive Care Nursery' (ICN) folks had teamed together to put on a baby shower. ? They felt strongly that I needed a "WHITE TRASH BABY SHOWER" …and boy is that what happened.
To start out, everyone brought food: Tater-Tot casserole (tater-tots, ground-beef, weird soup and fake cheese –but surprisingly good!); Hot Dog casserole (cheap hot dogs, macaroni, tomato soup); Lettuce (one head); saltine crackers; Pork Grinds; grape cool-aid; Twinkies, Ding Dongs and of course: Ho-Ho's
!!WHAT A MEAL!!
And then for the presents, -some of which are pictured below:
– Patchwork quilt made with duct tape and fingers of surgical gloves around the edges for design as well as functionality. The functionality is to use them as condoms to keep off the next kid.
– A torn and stained hospital gown wich is to be used as lingerie (watch out Victoria's Secret)
– A knitted baby hat for a very pointed-head baby, -and a stained Wal-Mart shirt.
– An "IOU" for a nice manicure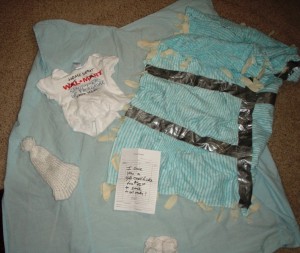 These folks on the ICN unit are all great! -and obviously a lot of fun. !!Thanks everyone!!