This morning we woke up to a message from Eric V -he was heading our way, specifically Gerlach and the IBA memorial.  Hmmm, Eric often tells us when he's making this trip, but most often it's too late of notice for us to join him.   But this time Grace and dad grabbed a few diapers, some snacks and headed for a very special spot on planet earth.
Grace has been to Gerlach quite a few times, Bruno's is familiar territory.   But Grace has never spent fun time on the playa, she's never seen some of the funky artwork on the fringe of the playa, and she's never been to the IBA memorial.   Today all those things would change.
Per plan, we beat Eric to Gerlach by a strong hour ..and we used that (and a bit more) to explore the playa (it was in surprisingly good shape).   GRACE ABSOLUTELY LOVES THE PLAYA, she's really tugging on dad's heartstrings as dad does too.  And, considering only 26months old and her first time –she really went at it hard!  She led us off so far that we couldn't even see the truck, it has disappeared over the horizon!!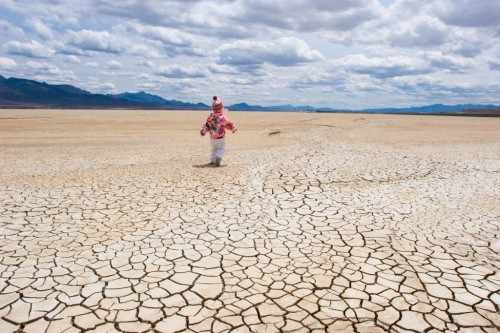 After the playa we checked out some of the funky art  …and then we went to see Eric.  Eric has always been good to Grace and they're like old pals whenever they see each other.   The IBA memorial is special beyond words and we spent quite a bit of time there.  Eric maintains the site and comes great distance to do so.  Today he drove that silly smart mobile from southern Utah.  Aprox 1200miles round trip.
Then to Bruno's for the obligatory meal …..and eventually home.  It was a great day -And a fantastic way to spend Memorial Day.