Grace has had a very blessed life these first 26months. Constant 1-1 attention between mom and dad working opposite schedules and Alecia coming to the house a few days a week. And it shows, she's a great little girl.
But the time has come for Grace to get out into the real world and hone her people skills, -so we enrolled her in a daycare.
We researched and interviewed a few different ones. This is one that is owned/run by mom's employer and it seems pretty good, and gets good reviews from other parents.
So, we all went this morning to see Grace take on her new surroundings. Mom and Dad had tears in their eyes, but Grace just waved and said "BYE!"
She only stayed a few hours today ….to get her feet wet so-to-speak. But tomorrow will be a real day -out of the house early with Dad -Then daycare for the majority of the day! She'll be doing this two days a week.
Mom and dad know she's ready …and maybe that's what makes it so sad. But it is exciting for Grace and it'll be good for her development.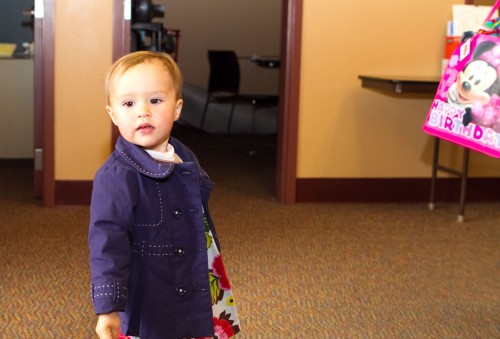 Later in the evening ….Grace and Dad made casual-warm-night run to Jamba Juice to celebrate the first day of school.