Grace had another doctor's appointment (March18) and scored another A+ grade. She gained 9oz or a bit over 1oz per day which is very good!  We're all very impressed and proud, and the next doctor's appointment is a full month away.
Then Grace had her first luncheon outing -with mom and dad at Claim Jumper's restaurant.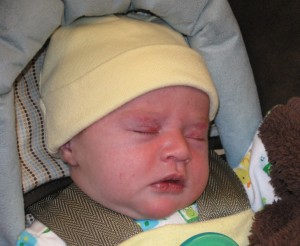 Today (March20) Grace and mom took their fist solo outing (without dad), they went to the clinic to get blood drawn for the follow-up PKU test. This is the last poke until immunization shots which start in a month or two. Then they picked up Grandparents Rose and Ray and went to the park for a bit.
Pictures of the last days can be seen HERE(Clicky)